The Marcus Wallenberg Prize Symposium
Wearing Wood – The World of Wood-based Textiles
October 11, 2022, 09.00-12.30 CEST
Welcome to the Marcus Wallenberg Prize Symposium 
The 2022 Marcus Wallenberg Prize is awarded to Professor Ilkka Kilpeläinen and Professor Herbert Sixta for the development and use of novel ionic liquids to process wood biomass into high-performance textile fibres. The collaboration of the research teams led by Professor Kilpeläinen and Professor Sixta has resulted in the development of high-performance textile fibres based on different qualities of wood pulp. The innovation builds on the design and synthesis of novel superbase ionic liquids that enable efficient dissolution of wood pulp in high concentrations and at a viscosity suitable as spinning solution (dope). This spinning dope can then be spun into high quality regenerated cellulose fibres for the textile industry.
Very welcome!
Marcus Wallenberg,
Chairman of the Marcus Wallenberg Foundation
Date: October 11, 2022, at 09.00-12.30 CEST
The digital symposium attendance is free of charge and open for everyone.
Registration to be made by October 10, 2022.
A recording of the symposium will be distributed to registered persons after the event.
The Marcus Wallenberg Prize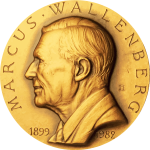 The purpose of the Prize is to recognize, encourage and stimulate pathbreaking scientific achievements which contribute significantly to broadening knowledge and to technical development within the fields of importance to forestry and forest industries.
Learn more: mwp.org
Prof. Herbert Sixta,
Austria, co-recipient of the 2022 Marcus Wallenberg Prize, Aalto University
Prof. Ilkka Kilpeläinen,
Finland, co-recipient of the 2022 Marcus Wallenberg Prize, University of Helsinki 
Moderator: Prof. Orlando Rojas, Member of the Prize Selection Committee, Univ. of British Columbia, Vancouver, Canada
Welcome and Opening Remarks
Prof. Göran Sandberg,
Member of the Board of the Marcus Wallenberg Foundation
Ioncell and Its Possible Place in the Textile Industry Given the Particular Challenges of Climate Change
Prof. Herbert Sixta,
Austria, co-recipient of the 2022 Marcus Wallenberg Prize, Aalto University, Helsinki, Finland
H&M Group Circular Innovation Lab – Future Material Need in the Textile Industry
Mr. Martin Ekenbark, 
Lead – Circular Innovation Lab, H&M Group, Stockholm, Sweden
Announcement of Winner of the Young Researchers' 3MT presentations

For participants at Grand Hotel: YOUNG RESEARCHERS' POSTER SESSION  
For participants online: Break 
Technoeconomics and Scale-up
Mr. Niklas von Weymarn, 
CEO, Metsä Spring Oy, Helsinki, Finland
The New EU Textiles Strategy and Its Impact on Wood-based Textiles
Mr. Dirk Vantyghem,
Director, EURATEX, Brussels, Belgium 
Viable Fibre Raw-materials and Their Impacts on Dissolution of Cellulose for Man-made Fibre Spinning
Dr. Frank Meister,
TITK, Thuringian Institute for Textile and Plastics Research, Rudolstadt, Germany
Speakers interact with the audience
Shiva Telavari, Executive Assistant of the Marcus Wallenberg Foundation
Mail: shiva.telavari@mwp.org Tel: +46 72 5725850.